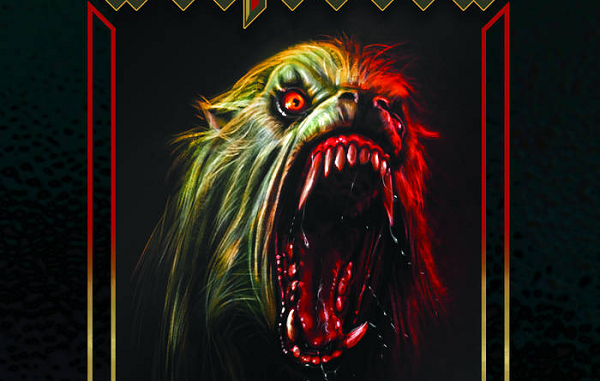 Artist: Wolftooth
Album: Wolftooth
Country: US
Bandcamp
Facebook
Wolftooth, that just sounds heavy right off the bat huh? Well, the name implies the sound you will hear if you listen to their self-titled, debut album. Wolftooth comes to us from Richmond, Indiana, where they have all been involved in the metal scene for over 20 years. They came together to bring us a mix of doom and stoner metal, while adding in influences from Black Sabbath, Rainbow, and from other bands from the 1970's era.
Album opener, "Blackbirds Call", has a beautiful, fade in intro, and as it fades out slightly, a Cathedral-style feedback note fades in. The verses are pretty heavy thanks to the guitars, but it's the chorus that really sticks out. It is just so 1970's, especially the bass playing. The tone reminds me of old-school John Paul Jones, and the playing is just as nicely done. I love the dual guitar harmonies that build up to the guitar solo, really nicely written part, and the solo then rips it up to bring everything back to that heavy verse section!

"Sword of My Father" has that N.W.O.B.H.M. sound from the minute it begins, and is my favorite track on the album. The guitars are heavy, raw, and nicely written, especially the chorus. I love the lyrics, depicting the story of a man searching for his father's broadsword, and the fact that the chorus is so catchy; it really is the most kick ass track here.

"Frost Lord" starts off like it could have been on Kill "em All, in terms of guitar playing, guitar tone, but the vocals really make this song for me. "Look in his eyes, what do you see? They're cold as ice, now you believe", is my favorite vocal line in this track; both lyrically, and in how it is sung. This is my second favorite track on this album.

"Season of the Witch" has a bluesy intro that has a really subtle fuzzed lead over it, reminds me of old Corrosion of Conformity a little bit. We get a lead section over the verse riff, before the vocals start, and it was placed in a great spot for this track. The chorus part has a subdued feel to it, but it adds to the rest of the song perfectly. Lots of cool lead playing in this song too!

If you guys like music, and I know you all do, then I suggest you check out Wolf tooth. I'll hook you up with some links to make your search even faster. Enjoy!!!!
https://www.facebook.com/wolftoothmetal
https://wolftooth.bandcamp.com/releases
---
About Tom Hanno: I review songs, or albums, and I just talk about what music is to me. I also post videos of killer bands, my own playing,and news about upcoming shows, album releases, concert reviews, etc.
Check out more of Tom's Reviews on his Facebook page:
Tom's Album Reviews, Interviews, and Musical News