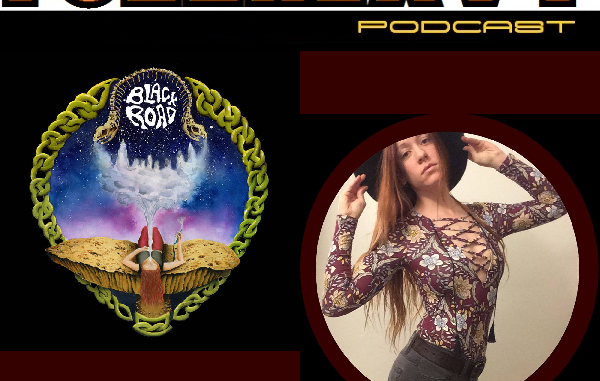 Tom – Hi, Suzi. Thanks for taking the time today to answer a few questions about Black Road. I'm not sure if you remember, but shortly after I posted my review of the album we had a lengthy chat on Facebook about the music, the band, and other projects you and Tim were working on. One of the things we talked about was how much I enjoyed the album, especially the tracks "Morte", and "Morte (Coda)". I really enjoy how they serve as an end to one side, and beginning to the other side, of the album, so to speak. Now, I know that you are doing a pre-order, in conjunction with D.H.U (Dark Hedonistic Union) Records for the vinyl edition of the album, and my question is this…Did you use those song as such, like we had discussed, and could you give us a little detail behind the writing of them? Also what led you to working with Robert and D.H.U?
Suzi – Morte and Morte (coda) were piano pieces that I had written on my keyboard at home. There was no actual plan to include those songs on the debut EP initially. Since we had run into so many issues within the recording process, the release date was delayed greatly. In the end we feel it all was meant to be, and was a blessing in disguise… however I still felt a bit disappointed, and eager to make it worth the wait. Right before sending our tracks over to Tony Reed to mix and master for cassette, CD and vinyl, our bassist Casey let me know that his mother had a baby grand Kawai piano at her house. It dawned on me that even if it didn't come out as planned, it would still be great practice to learn how to record and track myself on a real piano. We all met up one morning and got right to it – setting up two microphones and recording the song I wrote. I was slightly nervous, given that I had never recorded anything like that. I had thought about wanting to do an electric version of the instrumental, and had the idea for the title "Morte" before the recording happened. Once the piano parts were nailed, I recorded Tim doing acoustic guitar accompaniment to use within the mix. After getting drum, electric guitar and bass tracks done, both parts of "Morte" had been completed. It seemed only fitting to fill up as much space on our vinyl as we were allowed, and essentially exceeding the limits as to what an EP is technically defined. We all didn't mind the rules, and decided it was just an added bonus to have those two tracks end side A and begin side B. Just the fact that something like that was welcomed with excitement and support, and all of the changes we have had to make… it shows me how awesome Robert at DHU Records really is! He has been behind us since day 1, and is always down with hearing new ideas and rolling with the punches. We met through discussions about a love for music and mutual friends of ours, some of whom were on DHU Records at the time. He saw potential in us and he took a chance. Tim and I have been forever grateful for everything, and are so happy to have signed with DHU! Black Road is honored to be in such great company.
Tom – What influences do you personally find to be the most apparent in your vocal style? And what are you influenced by that the fans would find surprising?
Suzi – I have no idea who I sound like, haha. I would say I do notice some Danzig maybe, Alia from Blood Ceremony, Magnus Pelander from Witchcraft, sometimes even Amy Winehouse? I really love old blues, soul, and Motown. Bands like the Four Tops, Temptations, Curtis Mayfield, Marvin Gaye, Gil Scott Heron, Baby Huey, and tons of others you might not expect. I also have a soft spot for folk, Americana, and real country. Basically anything with heart and soul. For instance, Murder by Death, the White Buffalo, Noah Gundersen, John Prine, Tommy Emmanuel, the Black Crowes, and even Tom Petty. I really like a huge variety of music.
Tom – I personally feel that "Bloody Mary" is the strongest song on the album, and I know there's a killer video for the track. Could you give us a little background on the lyrical content, and why this track was chosen for a video? By the way, I love the little scream you do just before the guitar solo. It adds such a cool feel right there.
Suzi – "Bloody Mary" was written during the time of having a different bassist and drummer. Tim was excited to write this song because my voice was getting stronger after quitting smoking cigarettes, and he really wanted to bring this riff to life. I always referred to that as the "Danzig riff" in fact, haha! The scream that happens right before the guitar solo sort of felt right when we were first writing the song, and I was very unsure about including that in the final recording – as well as the initial "YOW". In the end I feel glad we left those in because people seem to think they are fun. The legend of Bloody Mary was one which I always found interesting ever since hearing of it when I was a very young child. I decided it would be fun to write about her in a song because I haven't really heard others doing that yet. Being the shortest song on the album that contains the entire band performing together, we wanted to take a stab at making this our first official music video. Paired with our friends Don Corthier and Liza Moon, we had the whole band up in Michigan for a weekend video shoot. It was such a fun experience, and I wish we could just film music videos all the time now.
Tom – How did Black Road come to be a band? Were you all friends beforehand, or did that happen through being in a band together?
Suzi – Black Road's initial lineup was a 5-piece. We had two guitarists in the beginning, Tim and Ed, who were best friends and played guitar together in high school. Our friend who actually taught me how to play guitar in high school, Dennis, who was an exceptional guitarist himself, was our first drummer. We all went to high school together, however Tim and I somehow never hung out until 8 years after graduating. Our bassist actually joined Black Road first. He was a pal of mine named Anthony who I had been making music with online. Once we all got together and started to jam, we soon realized what direction we needed to head. Ed and Dennis both left the band to support their new families within the first year, and Tim took over as a solo guitarist. Andrew became our new drummer for nearly a year, leaving one week before planning to record the debut EP in September 2016. We were faced with the task of finding a new drummer, and needed to delay the recording process. Within about a week, our bassist decided it would be a good time to step away, and pursue his own musical endeavors. By the end of October 2016, we had found a new drummer and bassist, Robert and Casey. This is when Black Road blossomed, great, and strengthened into the band it is today. We wouldn't be where we are now if it weren't for those two guys!
Tom – I enjoy your Facebook Live videos lately, especially the shirt unboxing. You seem to be a very down to earth woman, with a huge appreciation for your fans. I find this to be a common thread throughout the genre, more so than any other style of music. Do you also seem to find this to be true, and if so, why do you think that is? For me, it brings back the whole brother/sisterhood that thrash metal had back in the day, and I love that aspect. Music should be the ties that bind, not the ties that rip people apart; sadly, the internet has done a lot to ruin that for heavy metal.
Suzi – The stoner/doom metal scene is such a close group with a very family-oriented vibe. It is wonderful to feel embraced and supported by so many awesome people. I had no idea I had so many people that shared similar beliefs and interests, who I could connect with on such a personal level. The internet has actually really helped to unite a lot of us, and help us to communicate beyond borders. I love doing silly online videos, because we are just normal people with passion, goals, and pure intentions. I hope everyone can see that we just want to have fun and play music, pure and simple. I have noticed that people in this community of metal are very accepting of the female-fronted bands. This gives me great hope that bands are respected for talent and we can be treated equally for rocking out!
Tom – What is next for the band? Tour plans? We'd love to see you guys come to Syracuse and do a show!
Suzi – Our band is saving up to get ourselves a good van. We spent the last year doing tons of shows and really put our vehicles through hell. It was well worth it! In that time, we have been trying to release merchandise and play as many gigs as we could. This is getting us closer and closer to reaching our goal of someday having a reliable and large van to get us out of the midwest. Once that happens, BEWARE! You will not be able to stop us! Well, as much as our bosses will allow, that is…
Tom– Once again I would like to thank you for taking the time out of your day to answer my questions. For this last one I'm just gonna have you give a shout out to your label, or your favorite bands, or whoever you feel deserves some recognition from you and the rest of the group.
Suzi – First and foremost I would love to give a shout out to the record labels who believed in us, and helped bring our dreams to life: DHU Records for the cassette and vinyl release, and BloodRock Records for the awesome CD digipak release! It is amazing to say that people all the way in the Netherlands and Italy cared and trusted us, and believed in us enough to take a chance. We are forever grateful to them, and to anyone who has ever shown us support. Our families have been overwhelmingly supportive. I can't even begin to thank everyone, but each of our parents and family members have done whatever they could to ensure we get to do what we all love. Every single band we have ever played with has been so amazing. Mibk Silk Screeners have helped us tremendously with printing quality shirts and merchandise for us, and also showing us that wanting perfection for your fans and friends is not unreasonable. Thank you to everyone who has booked us to play out of state shows or out of town gigs. To each and every person who has done an interview or review with us – we thank you from the bottom of our hearts. You are now considered our family as well. We have learned so much in just a short time. We cannot wait to see what else awaits us along this Black Road.
Black Road Links:
Bandcamp
Facebook
Label Affiliation:
DHU Records
BloodRock Records
---
About Tom Hanno: I review songs, or albums, and I just talk about what music is to me. I also post videos of killer bands, my own playing,and news about upcoming shows, album releases, concert reviews, etc.
Check out more of Tom's Reviews on his Facebook page: Tom's Album Reviews, Interviews, and Musical News